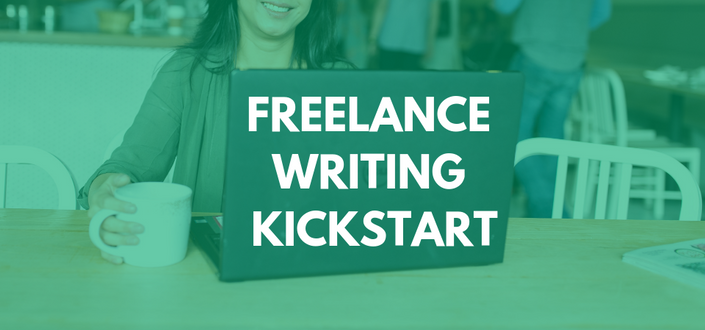 Freelance Writing Kickstart
Make Money Online as a Freelance Writer
Want to get paid to write and create a flexible schedule so you can stay at home with your little ones?
You like to write. You've carved out an hour here or there to work on your blog as a side hobby.
The problem is that you have no clue it's even possible to make money from your writing efforts.
You know it's possible to make a living working from a home, but you have no idea where to begin.
Sound familiar?
You don't know if freelance writing is for you because there seems like so much competition out there

You've heard stories about people writing for pennies and in mass quantities

You have no clue where to start and how to approach clients to land your first gig

There's only so many hours in a day. In-between watching your kids, making sure you still have a hot cup of coffee and getting enough sleep, you're left wondering how you squeeze yet another thing into your schedule.

You know what mama? You got this. You CAN make a good living as a writer while staying at home with your kids. You don't need a degree or experience to be successful.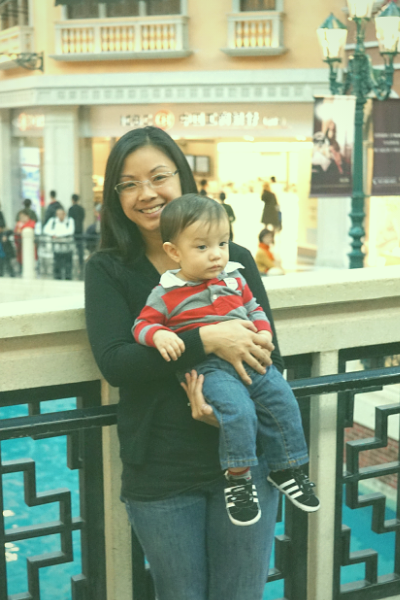 Hi there. I'm a mom just like you, desperately wanting to help out with the family finances. After my son was born, I cried every day on the way to work, wishing I could spend more time with my son. I had built up a freelance writing side hustle before he was born and made the bold decision to quit my 9 to 5 so I could be with him. In less than a year, I replaced my full time salary. The year after that, I grew my freelance writing business to six figures, all while working part-time hours.
Yup, I earn over $10k a month working from home. This is my earnings from 2018 - over six figures in business profits!

Imagine if you could stay at home, making money typing on your laptop while you're still in your pajamas….
...by implementing some simple strategies combined with the right tools and systems, you can make a living from freelance writing.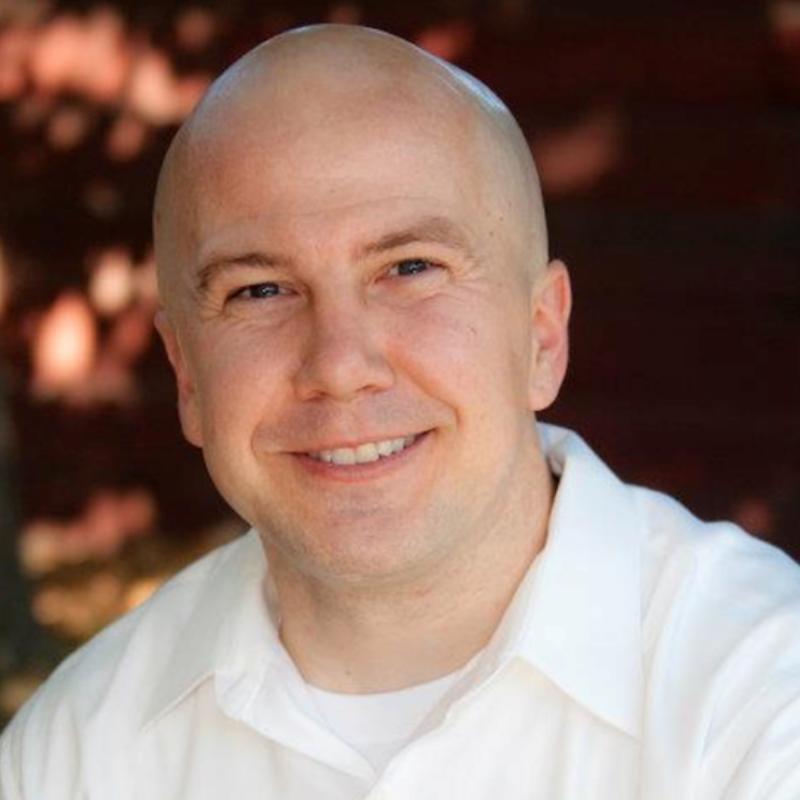 "I recently transitioned into full-time freelance writing. Sarah has been such a wonderful resource as I've built my business. Whether it is answering questions or referring me to clients that fit my niche, I know that I can always count on her."
- Lee Huffman
Are you ready to contribute to your family income?
Freelance writing means you can…
Get paid for writing - No need to compete for jobs where clients don't respect you, therefore paying you less than minimum wage
Stay up to date with a professional network - Connect with other freelance writers, get support so you're not stuck alone all day without adult interaction
Turn your passion into a successful and sustainable business - Finally gain the confidence and skills to earn good income to support your growing family
Introducing: Freelance Writing Kickstart
The proven, simple process for building and launching a successful freelance writing business even if you're a complete newbie.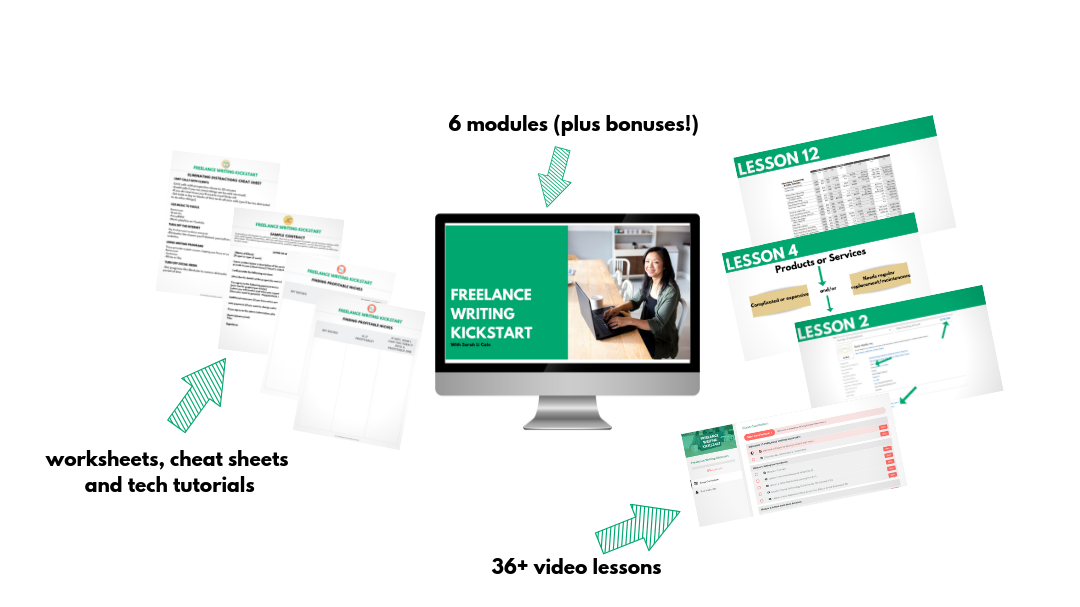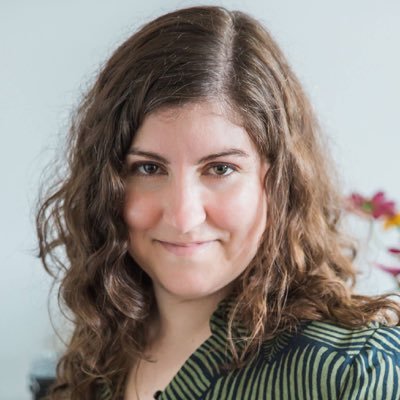 "Sarah is one of the most reliable, hard-working writers I know. She's a stickler for deadlines and well-versed in her niche. Even with her full roster of clients, she's the first one to stop and offer help to a fellow writer. She's a creative force and pillar in our community."
- Kate Dore
Are You Ready to Make Money From Your Writing?
Freelance Writing Kickstart is a proven step-by-step guide to turning you into a profitable writer. You're a busy mom, so this course has no fillers, no fluff — just actionable videos and resources to help land freelance gigs again and again.
You have to choices when it comes to growing your freelance writing business:
Do it on your own - Yes, you can probably learn what it takes to become a successful freelancer BUT there'll be a steep learning curve. As in, you'll have to carve time out in-between taking care of your kids and figure out which steps to take and in which order. As in, it could take you years before you can make a liveable wage from freelance writing.
Get help - Freelance Writing Kickstart is a step-by-step guide I still use to this day to land clients again and again. Learn the framework and cut out the fluff to fast track your way to success.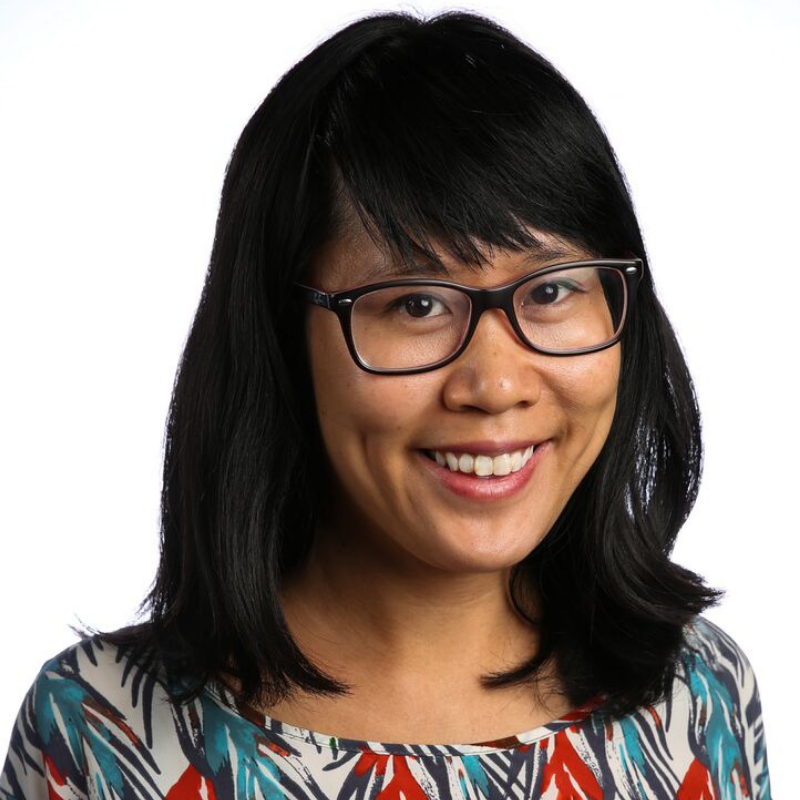 "Sarah is one of the most prolific, ambitious, and talented freelance writers I know—and trust me, I know many! It's amazing how much progress she's made in her career in such a short amount of time. All while parenting a rowdy 3-year-old. Her success is well deserved. Plus, she has a heart of gold, and loves helping fellow freelancers succeed"
- Jackie Lam
Here's what you get when you enroll the Freelanc Writing Kickstart course: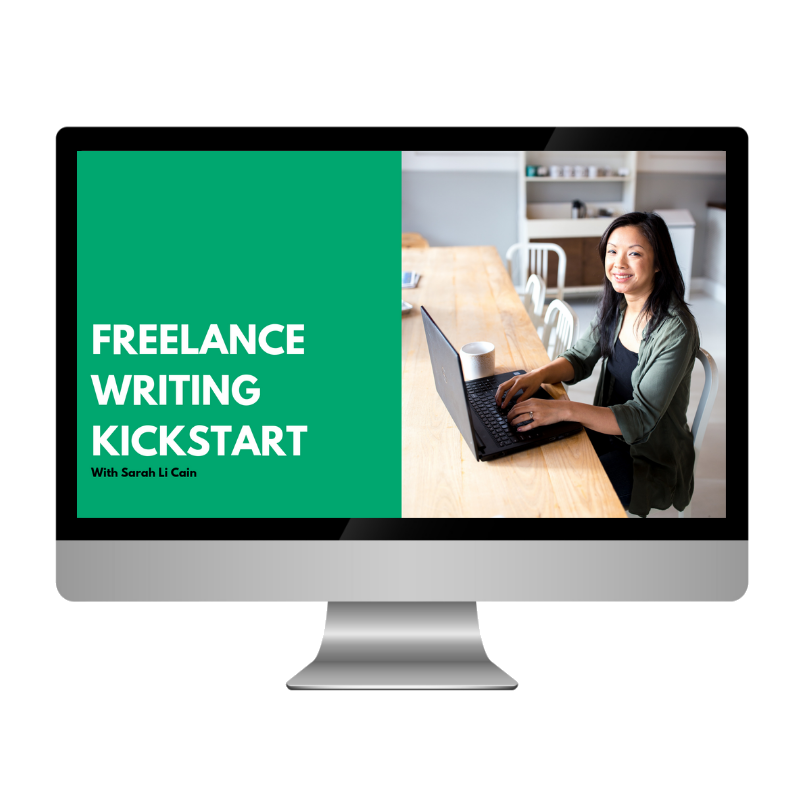 6 modules to work at your own pace (a total of 36 video lessons)

Cheat sheets and ready-to-use templates

Tech training on tools to help you streamline your freelance writing business

Clear and simple exercises in each lesson to keep moving forward in your freelance writing business

What you need to know to build an online presence (using your blog or website) that showcases your expertise and lands you the job

And so much more!
Module 1: What is Freelance Writing?
Who hires freelance writers
The types of work freelance writers do
Setting up your blog or website to attract clients
Module 2: Creating a Rock Solid Work Schedule
Getting yourself to commit
Mindset strategies for success
Eliminating distractions



Module 3: Finding Your Niche
What is a niche and why should I care?
How to find out what to write about
What are some profitable niches



Module 4: Finding Clients
Setting up your writer website or "hire me" page on your blog
Creating a writer portfolio from scratch
The best places to find clients
How to pitch clients and land freelance writing work



Module 5: You Got the Gig, Now What?
How to work with a new client
Managing client expectations
Organizing your work
Getting paid



Module 6: Increase Your Income
Learn how to increase your rates
How to look for high paying regular work
How to get clients to refer you to other companies



Let's not forget the bonuses!
Workshop: Client Red Flags - Learn what the telltale signs are that a client will suck up a lot of your time and energy, as well as predicting they'll pay low rates
Workshop: Advanced Networking Techniques - Learn about other ways to build your network (other than pitching clients) so that you can have work coming to you
Sample Contracts - Learn what you need in a freelance writing contract so you can provide one if your client doesn't
30-Day Trial of Freshbooks - Get a free trial plus a tech training on this awesome invoicing software that helps you get paid on time and track client payments
Don't let overwhelm cripple you. Take advantage of these resources and step-by-step guide to get kickstart your freelance writing career today!
Freelance Writing Kickstart is a self-paced course you complete online — you can do it on your own schedule. Once you enroll into the course, you'll get instant access to all the course materials, including bonuses.
Each lesson is packed with clear and actionable lessons and you can go through each as long as you need to absorb all the material.
When you complete the course, you'll have the tools, confidence and know-how to earn money from freelance writing.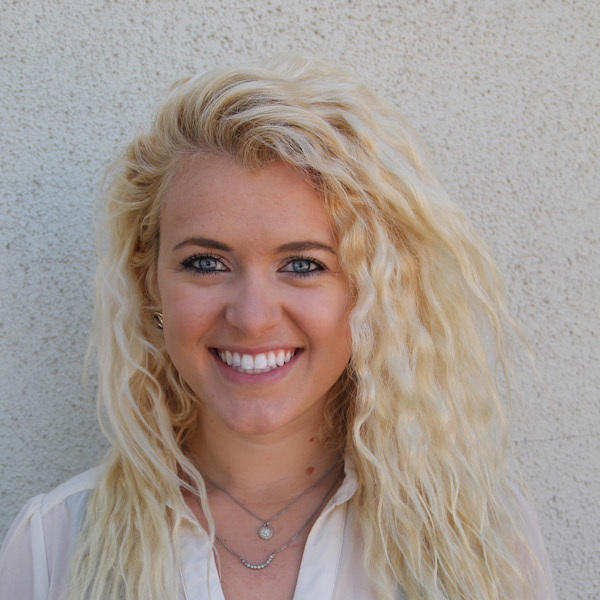 "I've never met anyone quite like Sarah. She has forged an impressive (and lucrative!) path for herself in writing through hard work and strategic moves. But even beyond that, she's a great writing coach. She never directly provides answers, but always asks exactly the right questions, which at its core, is what coaching is all about—accessing the wisdom you already have inside yourself. "
- Taylor Milam
Grab Freelance Writing Kickstart and Become a Successful Paid Writer Now:
Frequently Asked Questions
Do I need a degree in writing or the subject matter I'll be writing about?
Not at all! Take me for example — I write mainly about finance topics and I have a liberal arts degree. You do need decent writing skills such as knowing how to write sentences and have a good command of the English language.
How much can I make as a freelance writer?
That really depends on how many hours you work and the types of clients you get. All this to say — it's up to you how much you want to earn. If you implement all the lessons in this course, you can land freelance writing clients. That being said, the most successful ones are those who are willing to keep trying do the research it takes and persevere even when things get tough. You can earn as little as $10 post all the way to $1,000+ for a piece of writing. Most freelance writers are able to get paid around $150 - $300 for a blog posts, but those are averages.
How soon will it take me to make money from freelance writing?
I can't guarantee a certain timeline as that depends on how soon you go through and implement the lessons. But if you get your portfolio set up and consistently pitch clients, you can land a client in as little as a few weeks.
Will freelancing take a lot of time?
It can take as much or as little time as you want! The beauty of freelance writing is that it allows you to work at your own pace and schedule. There may be times when it'll take you more time, especially at the beginning when you're pitching for clients. However, be realistic about your time commitment and work around that.
What's your refund policy?
I can't guarantee with 100% certainty you'll will land freelance writing clients or earn a large salary. I will say I stand behind the materials in the course as it's the exact process I use to land high paying gigs. If you don't like what you see, you'll have 30 days from the date of purchase to get a refund.
How long will I have access to your course materials?
How does lifetime sound? If there are updates the course you'll get those too!
What if I don't live in the U.S.?
All of the lessons (except the tax one) is applicable to anyone outside of the U.S. The strategies I teach are to help you land clients online, so you can apply what I teach to land clients around the world.
Hi, I'm Sarah, your freelance writing teacher.
| | |
| --- | --- |
| | I'm a former elementary school teacher turned freelance writer. I'm not exactly tech savvy and didn't know how to make a living as a writer, let alone using it to replace my former salary. My work has appeared in Lending Tree, Discover (yes, the credit card company), Vistaprint, Wordpress, Goldman Sachs and a whole host of major national companies. I don't want you to make the same mistakes I did, so my mission is to cut years of trial and error for you and skyrocket your income as a freelance writer. |
What Happens After I Purchase the Course?
Once you register on Teachable (the course platform where you'll access the lessons), you will receive an email confirmation stating you paid. All you need to do is log in and the lessons will be instantly accessible, ready for you to start learning!
Money Back Guarantee
I stand behind everything I teach in this course. That's why I'm giving you a risk-free guarantee. If you don't love the course, I'll refund your investment within 30 days.